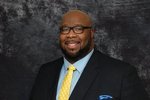 "Good, better, best, never let it rest, until your good is better and your better is best."
(850) 875-8737 X 3101
Email
Maurice D. Stokes currently holds undergraduate degrees in psychology and education. In addition, he has a Master's Degree in Educational Administration with certification is Educational Leadership.
Mr. Stokes has been priviledged to work with children since 2002 in the Gadsden School District and beyond. He had a very successful teaching experience at the middle school level. As a teacher, he served as a team leader for several years and was recognized as the district's "Rookie Teacher of the Year" finalist. In addition, Mr. Stokes was recognized for his students' remarkable performance on FCAT. He later went on to serve as a flourishing discipline administrator for several years where he helped to push the schools to high performing status. He also has experience with state government. He served as a Governmental Operations Consultant with the Florida Department of Children and Families. He was instrumental in reviewing and assisting in implementing countless policies regarding children's mental health issues. This role afforded him the opportunity to serve children across the state of Florida. Moreover, he served Gadsden County as a GEAR UP Coordinator through the Florida Department of Education's GEAR UP (Gaining Early Awareness and Readiness for Undergraduate Programs) grant. He played an integral role in implementing programs such as AVID, Collegeboard, Springboard, and Apple iPod Initiative in the district's middle and alternative schools. Mr. Stokes also served East Gadsden High School as the Assistant Principal for Administration were he was instrumental in leading the school to its highest school grade in the school's history. He has served as the proud principal of Saint John since 2013.